Online Counselling/Therapy
What is online counselling?
Counselling online allows individuals and couples the convenience and anonymity of using the internet instead of seeing our experienced mental health professionals face to face to explore their issues. Others' use our therapy online facility in conjunction with traditional psychotherapy.

You only require Wi-Fi access capability with sufficient bandwidth for video communication, a webcam and audio input and output devices on your computer or mobile phone

We offer couples & individuals Skype or Facetime for video calling, or Contact us for more information regarding other video calling options and queries.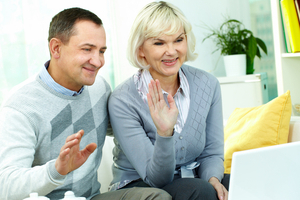 Benefits of Counselling Online:
People living in rural areas or people who are unable to leave their home find online therapy is easily accessible.


Recent studies have shown that online counselling encourages younger adults to enter therapy as they seem more at ease with this format.


Couples and individuals who are uncomfortable with face-to-face therapy find that online therapy is more suitable for their needs.


Counselling online allows couples and individuals the convenience of talking from home, which saves you the inconvenience of travelling.


Our experienced psychology therapists are governed by the same strict 'Code of Ethics' as face to face therapy.

Types of Therapy Effective for Online Counselling

At East Qld Counselling & Psychology our professional caring therapists find online counselling very effective both with couples and individuals. An increasing number of people are now opting for online therapy because of its many benefits. For detailed information on our services please click:

Fees & other considerations.
The Australian Psychological Society recommends a payment of $220.00 per 60 minute session. At East Qld Counselling & Psychology our online counselling sessions range from $130.00 for individuals and $160.00 for couples. Dr referrals that normally incur medicare rebates are not currently available using the online counselling format. Call us today for more information

Fees for the Pre-Marriage Course